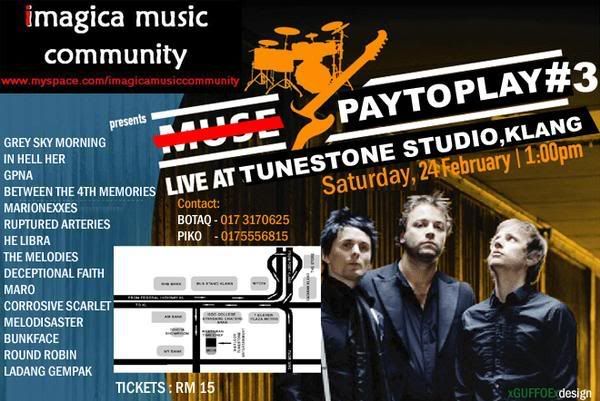 PAY TO PLAY is back!!!!!!! The 3rd series. Hehehehehe.... As usual 15 bands will rock the Klang Town celebrating Valentine Rock Day. Bands play indie, punk, grindcore n metal. Yeah!!!!!
Forget about Muse...... lets support our local scene. Save your money to go to this party.... Alaaaaa.... rm15 jeee.... Bring along awek2 cun n balak2 macho yang masih single.
Band that should be pay attention on this gig, CORROSIVE SCARLET. Check them out!!!
PAY TO PLAY #3 (GIG CINTAN CINTUN)
24 feb 2006
1pm
admission rm15
tunestone klang
Details:
botaq 0173170625
piko 0175556815
TENGKIU ARIGATOOO YIHAAAAA!!!!!
-botaq-